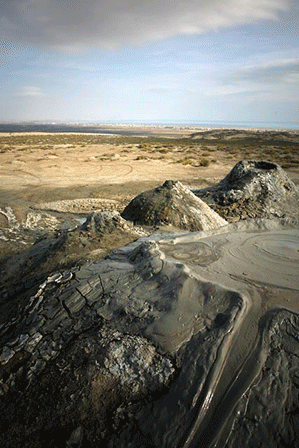 Rock carvings, also known as petroglyphs or rock art, in Azerbaijan and the Southwestern United States are powerful, yet fragile, monuments of our common human history. Researchers around the world study these monuments to add to our understanding of how humans in the past lived, migrated, ate, celebrated, and communicated. As new technologies for dating, recording, and interpreting rock carvings evolve, researchers are able to piece together a more vivid picture of pre-historic life in Azerbaijan and how societies formed and lived in the Southwestern United States.
The Written in Rock (WIR) project focuses on two petroglyph sites—the Petroglyph National Monument (PNM) in Albuquerque, New Mexico, and the Gobustan landscape in Azerbaijan. Both are exceptional places of great historical, cultural, scientific, and artistic value that are open to public tourism. PNM and Gobustan both face their own conservation challenges. Time, environmental changes, and human activities affect the petroglyphs and management of the sites.
There are opportunities to make a difference for the long-term enjoyment and protection of petroglyphs by increasing public awareness about their importance and precariousness. The Smithsonian Institution Office of Policy and Analysis (OP&A), the National Museum of the American Indian (NMAI), and the Gobustan National Historical Artistic Preserve (Gobustan Preserve) believe that it is especially important to reach out to the communities that surround the petroglyphs, whose ancestors are believed to have created them, and provide a platform where they can contribute to on-going interpretation and protection of these ancestral sites. A group of twelve Azerbaijani and Pueblo Indian individuals have been selected to participate in a year-long project that includes two, seven-day international field studies—one in Azerbaijan in October 2012, and one in Albuquerque in March 2013—where they will study petroglyphs and the culture of each region, and accumulate knowledge to share with their broader communities and the public. Onsite at the petroglyphs, the participant students will train with professionals specializing in petroglyph recording, conservation, and site management; they will learn basic preservation and recording techniques and the different interpretations of what the rock carvings mean.
Throughout the program, participants will engage with people, ideas, training, and resources that will enable them to create projects of their own for their communities, after the field studies.